Le ski de fond, le Biathlon et la raquette à neige devrait aussi faire partie de vos pratiques favorites pendant vos vacances en famille a la neige.

We had a great cross country skiing lesson with Richard! Even though we were late in the season so the trails were closed in Chamonix, Richard drove us to Courmayeur and so we were able to have a great time in beautiful scenery! Richard is very knowledgeable about the landscape and gave us great tips with our technique. We would highly recommend.
Niels Venverloo
2022-03-14
Superbe journée en compagnie de Richard. Incroyable de découvrir le base du biathlon. Je recommande vivement cette activité
Severine Muffat
2022-02-14
Initiation en amoureux. Très bonne expérience. Nous avons adoré. Richard prend le temps de nous expliquer les choses pour être dans de bonne conditions.
super moment avec mes enfants. Richard est tres pédagogue et sait nous faire partager son sport. ses émotions et le paysage magique. un grand bravo et merci
Apprentissage du skating dans la bonne humeur, 2h de cours très bénéfiques. Merci pour ta sympathie et ta pédagogie. Un moniteur à recommander !
Labarthe Oceane
2022-01-13
Très bonne expérience au biathlon, on a passé une super mâtiné, a faire et refaire sans hésiter. Merci à Richard
Yukimasa Kurosawa
2022-01-12
Richard was great teacher that I have never experienced. I could do what I could not do before lesson just by following his advise one by one. It is magical!
Initiation au biathlon entre amis au top : super pédagogique et dans la bonne humeur ! Merci !
Nous avons fait l'initiation biathlon avec Richard et nous avons passé un super moment ! Richard est très pédagogue, le lieu et le matériel sont tout à fait adaptés, et l'ambiance était très bonne, merci encore !
Cours / leçons privé avec un moniteur de ski de fond à Chamonix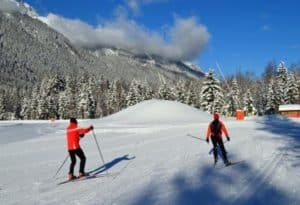 RÉSERVATIONS MONITEUR SKI DE FOND ICI
TEL: 0033 (0)661766368
INITIATION BIATHLON
Le BIATHLON est une pratique hivernale qui s'adresse aussi aux vacanciers. Venez nous rejoindre et vous essayez à cette pratique très ludique associée au tir et a l'endurance, pour adultes et enfants.
RÉSERVATIONS MONITEUR BIATHLON ICI
TEL: 0033 (0)661766368
SORTIE NATURE EN RAQUETTE A NEIGE
S'évadé quelque instant dans les magnifiques paysages d'hiver, accompagné d'un accompagnateur en montagne de Chamonix, vous allez pouvoir respirer le grand air et découvrir des panoramas formidables qui nous entourent.
RÉSERVATIONS BALLADE RAQUETTE A NEIGE ICI
TEL: 0033 (0)661766368